EPISODE 16
---
| | |
| --- | --- |
| Broadcast Number: TJGA-16 | Original ABC Airdate: December 13, 1975 |
---
80-40"IT'S NO PICNIC"


At the Insect Research Laboratory, Benny, an experimental ant, accidentally gets a double dose of a New instant growth serum, grows twice his size with a huge appetite, breaks out of his ant farm case, and escapes into the woods with his little ant friend George in tow. During their time on the lam, George is run constantly ragged with figuring ways to satisfy Benny's ravenous cravings, until they invade the picnic grounds of our heroes, Tom and Jerry. There, George pilfers a sandwich, olives and apple pie for Benny to scarf down. Even when T&J play baseball, Benny consumes both Jerry's ball and Tom's bat! Later the professor arrives from the IRL with an antidote for Benny's condition: specially formulated apple and sugar bread injected with a giant antidote serum. Benny eats the bread and shrinks back to his original size; by mistake, Tom also ingests the bread, and he shrinks, too! The professor traps both cat and ant under a lab glass; on noticing Tom's condition, he assures him that the serum's effects on him will wear off in 2 days. Benny and Tom watch in disgust as George and Jerry polish off some of the picnic food.

Trivia & Notes:

Benny and George are based upon the title characters of the 1937 John Steinbeck novella, Of Mice And Men; Benny is based upon the developmentally disabled Lennie Small, while George is, of course, patterned after protagonist George Milton, a quick-witted man who is friends with Lennie. This is an obvious throwback to the theatrical cartoon shorts of the 1940s and 1950s which were replete with lampoons of Of Mice And Men.
Tom is seen with a horrendous monobrow in one scene!
Tom & Jerry's previous encounters with insects on the show were with termites in Episode #80-21, "Termites Plus Two," and with a mosquito in #80-45, "The Campout Cutup." They were briefly transformed into gnats in #80-26, "The Sorcerer's Apprentices."
The use of ants in "It's No Picnic" could be in reference to 2 of the classic Tom & Jerry shorts Pup On A Picnic (1955) and Barbecue Brawl (1956), both of which featured Spike and Tyke being plagued by an army of ants!
Jerry talks. He says "Huh?"

Original Animation:
---
80-47

"BIG FEET"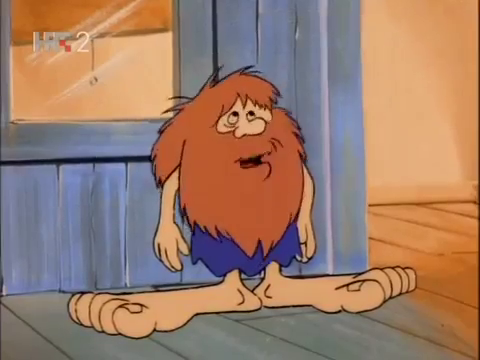 Oh no!! The dreaded Big Feet has returned to terrorize the denizens of the forests, forcing Pierre LeChopp's entire lumberjack staff to quit and flee in terror! LeChopp enlists the aid of Tom and Jerry in capturing the elusive Big Feet, but all of their efforts, including a neat method involving 2 barrels, turn belly-up. As T&J sleep, they are awakened and surprised by a scary shadow outside their tent and assume it's the dreaded Big Feet! The creature apparently trips on and gets entangled in their tent, sending them tumbling downhill right in front of LeChopp's door. He rescues T&J and discover Big Feet's a harmless little creature with big feet, who sadly reveals that, because people forever laughed at his big feet, he ran away. Now he has ambitions to become a forest ranger. He's given a pair of sneakers and a test with a campfire, which he passes with flying colors by stamping it out. Big Feet gets the job and is happy again, and the wave of terror is over.
Trivia & Notes:
This marks Tom & Jerry's third encounter with a forest ranger on the series, following Episode #80-20 "Tricky McTrout," and #80-16, "Grim And Bear It."
LeChopp knows who Tom & Jerry are, despite never hearing their names.
Tom talks again, saying "whoops!"
Apprentice lumberjacks are the 17th and last jobs Tom and Jerry take on in this series. They were previously cabin boys in "No Way, Stowaways" (80-03), circus roustabouts in "Stay Awake Or Else..." (80-01), museum exhibit cleaners in "No Bones About It" (80-04), deliverymen in "Safe But Not Sorry" (80-18), forest rangers in "Grim And Bear It" (80-16), veterinarians in "The Hypochondriac Lion" (80-23), janitors in "Watch Out, Watch Dog" (80-12), policemen in "The Police Kitten" (80-28), dog walkers in "Towering Fiasco" (80-17), stuntmen in "Two Stars Are Born" (80-29), groundskeepers in "Son Of Gopher Broke" (80-39), Sapstone's apprentices in "The Sorcerer's Apprentices" (80-26), tailor shop deliverymen and deputy superheroes in "The Supercape Caper" (80-42), Dr. Jackal's assistants in "See Dr. Jackal And Hide!" (80-35), and matadors in "The Bull Fighters" (80-41).
The exact same "Ranger Station" background from "Grim And Bear It" is reused for the closing scenes.
The scene of LeChopp designing the trap for Big Feet on a drafting board resembles a similar segue from the 1955 MGM T&J short Designs On Jerry.
---
80-48

"THE GREAT MOTORBOAT RACE"
(officiated by John Stephenson)

Tom and Jerry compete in a Marina Boat Race competition against Commodore Crumbly in his 18,000 horsepower boat The Sea Splitter, Sir Nievel Evil in his powerful boat, The Wave Whacker, and Daredevil Danny in his exotic airboat. While everyone else has the advantage with super-horse-powered boats, T&J are stuck with a small but highly touted rowboat with an engine on the back, called, of all things, The Dingy Dinghy. After being swamped at the starting line by the wake of the other competitors, Tom and Jerry are on their way, only to encounter obstacles like a smoke screen sent out by another boat, and a pier that falls on them. After carrying their boat through a cruise ship that stands in their way and being swallowed and sneezed out by a whale, Tom and Jerry finally win the race. When their boat hits the stadium wall, they are thrown through the air right into the trophy cup.
Trivia & Notes:
The captain from Episode 80-46's "Cruise Kitty" makes a cameo at the end as T&J fall into the loving cup. Some other backgrounds from the cartoon may have been used as well.
Uses cues from the underscores of Hanna-Barbera's Wacky Races (CBS, 1968-70), its spinoff, Dastardly And Muttley In Their Flying Machines (CBS, 1969-71), and Motormouse And Autocat (ABC, 1970-71).
To get out of the whale, Jerry makes the whale sneeze. A similar trick was used in Disney's Pinnochio (Buena Vista, 1940) when Pinnochio and Geppetto were stuck inside Monstro the whale.
In the scene where the whale sneezes Tom and Jerry out of his mouth, he appears to be a repainted version of Moby Dick from Hanna-Barbera's hard action adventure series Moby Dick And The Mighty Mightor (CBS, 1967-69).
This was the last New Tom & Jerry cartoon to be produced and to air first run on ABC Saturday Morning; these cartoons would keep repeating throughout its second season (with Mumbly) in 1976-77. As Filmation Associates would step up next at bat to animate Tom & Jerry TV cartoons for the 1980-82 CBS series The Tom And Jerry Comedy Show (which restored the cat and mouse to enemy status), Hanna-Barbera would not make any more T&J cartoons until 1990, when they produced Tom & Jerry Kids for Fox.
---
<< Previous Episode | NT&J Episode Index | NT&J Info Site | First Episode >>
---