80-33 "Double Trouble Crow"
Corn Farmer Tom and Corn Farmer Jerry are plagued by the arrival of Judd, a persistent, corn-eating crow who is the continuous cause of a crisis in their cornfield. Tom and Jerry do everything in their power to get rid of the pest. They set traps, they net him, crate him and mail him, but each time they think he's gone, he mysteriously reappears right behind them. Finally, after they have put him into a rocket and watched it land on the moon, they surrender when he reappears perched on their telescope. To their dismay, he reveals that they have been pestered not by one crow, but by his whole family of look-alike cousins Fudd, Ed, Ted, Ned, Ben, Len, and Ken. They all fly south for the winter (Miami to be exact!), laughing at the futile farmers behind their back all the way!
Trivia & Notes:
This cartoon originally ended with Tom and Jerry collapsing in defeat rather than waving their white surrender flags.
Tom's right paw is accidentally painted grey in one scene. This flub is previously seen in "The Sorcerer's Apprentices," which briefly sees both of Thomas's paws painted grey, and in "Beanstalk Buddies," in which his right paw is grey.
Here, Tom & Jerry runs a corn farm. The very next cartoon, "Jerry's Nephew," sees them chasing their nephew through a chicken farm.
This is the first New Tom & Jerry cartoon to reuse cues from the underscore of Hanna-Barbera's Dastardly And Muttley In Their Flying Machines (CBS, 1969-71). Also it recycles underscore first used in the It's the Wolf! and Autocat and Motormouse segments of Cattanooga Cats (the crow riding in a remote-controlled toy plane).
This episode also contains a trap baited with a stick of dynamite, but no explosion is heard or implied. Could there be cut footage or storyboard elements?
80-44 "Jerry's Nephew"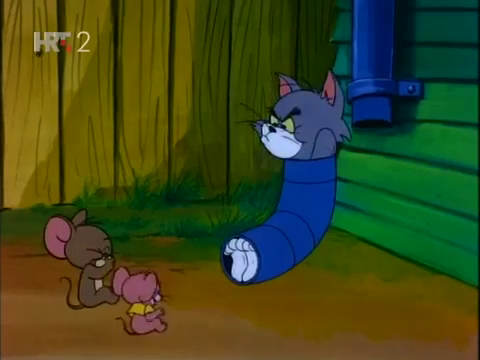 During Tom & Jerry's relaxing game of table tennis, Dinky, their nephew comes for a visit. After a refreshing intake of a saucer of milk, Dinky goes outside to play...with T&J dashing after him to protect him from any further harm. A swing on the swings leads to a game of follow-the-leader, on a tree limb, down a drainpipe and eventually into a chicken farm. Tom and Jerry employ all sorts of methods to get Dinky back---through tunneling under, Jerry masquerading as a chick, and Tom disguised as a hen---but each and every time, the farm's head rooster shows up to foul their plans. Tom & Jerry eventually snatch up Dinky and flee for their lives, race inside their house, and slam the door behind them---so hard that it brings the house down around them! It is here that Dinky's mom shows up to take him home, but Dinky returns to report some great news: his mom says he can come back tomorrow! Tom & Jerry decide this is the perfect opportunity to hop the next bus for Australia!
Trivia & Notes:
"Jerry's Nephew" is in homage to an earlier MGM Tom & Jerry cartoon sporting a title relating to a relative of Jerry: 1951's Jerry's Cousin.
This is probably a remake of The Milky Waif (1946). Tom previously ran afoul of barnyard fowl in Fine Feathered Friend (1942).
The animation of T&J close together during their game of table tennis with the ping-ping ball tapping on each other's paddles is inspired by a pivotal scene from Tennis Chumps. "The Tennis Menace" also makes use of such animation.
Jerry talks. He says, "Uh, cheep, cheep." He does this while being disguised as a chick, the same as he did in Fine Feathered Friend.
How a mouse can be amazingly related to a mouse and a cat is subject for speculation!
The very evening of the day these 3 New Tom & Jerry cartoons aired as part of Episode TJGA-13 of New Tom & Jerry/Grape Ape on ABC's Thanksgiving Funshine Festival, CBS broadcasted a 60-minute Hanna-Barbera-produced animated special, The Last Of The Mohicans, as part of their "Famous Classic Tales" series. The Last Of The Mohicans was H-B's only other project (besides The New Tom & Jerry/Grape Ape Show) for the 1975-1976 television season.
The Goodson-Todman game show Showoffs and the soap opera All My Children had the distinction of being the ABC Daytime programs to be preempted by this special telecast of The New Tom & Jerry/Grape Ape Show.